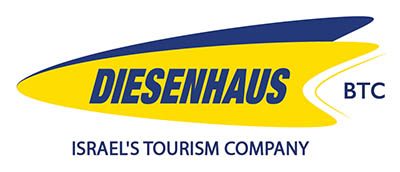 At Diesenhaus, customer service is a top priority. We are committed to providing our business clients with professional, reliable and efficient service from start to finish. Our service begins from the the first contact. Each client is assigned a personal agent who identifies his needs, helps him choose products from a rich and attractive range of suppliers, guides the client through negotiations with the tourist suppliers, follows up with an analysis of the travel Budget, and helps the organization draw up an efficient, internal travel policy.
At Diesenhaus, every client enjoys personal attention, starting from the booking process, through the stay abroad and and until the traveler is safely home again. Diesenhaus takes care of the details so that the client can concentrate on the purpose of the business trip.
Diesenhaus has decades of experience in providing services for the business traveler. Our thousands of corporate clients come from businesses of every size and in every sector of industry, and we use our experience to give every client the service that best fits their needs.
Our Services
Diesenhaus is here for you, to provide you with quick, efficient travel solutions at all times.
Advanced Technology
Diesenhaus is at the forefront of innovation and makes use of the latest technologies to give its business customers a wide and attractive range of tourism products; to follow and control the travel budget; and to ensure a fast, efficient booking process.
Full management of travel expenses using an accessible, efficient travel tools – these tools make it possible to collect information before, during and after a trip, creating a relevant and precise database on which to base the company's travel policy. It also serves as a security platform that makes it possible to follow events at all times and to respond in cases of crisis or distress.
Trip Source is an app that displays the precise itinerary and sends it directly to the traveler's mobile phone. It shows details of the flight ticket, including the Frequent Flyers Club membership number, information about seating, boarding gate, terminal number, flying time, type of aircraft, and whether the flight includes a meal. The app accompanies the traveler during the trip, and updates in real time if there are changes, delays or alternatives.
Tools to ensure the best price – We use leading technologies that ensure the best price for our customers. These include: robotic scanning that guarantees the quality of the tickets and the reservations; comparison pricing and ticket purchase at the lowest price; a system that integrates cost-effective flights on low-cost airlines and an exclusive system that checks for lower prices after purchase of the ticket, enabling an even lower price.
Global travel service
Since 2006, Diesenhaus has been the exclusive representative of the tourism conglomerate – BCD Travel. Through our global network, we operate in more than 109 countries, with a staff of more than 11,000 experienced, creative and dedicated professionals who can provide service anywhere in the world.
Putting the traveler first
Diesenhaus is concerned for the safety and security of our clients' employees traveling abroad and offers an exclusive security management system that monitors and evaluates international threats in order to protect and support every traveler even in crisis situations. In addition, we use a personal profiling system that records trip preferences and relevant information on every traveler, enabling us to provide a quality, custom-made travel experience every time.
Round-the-clock Service
Diesenhaus agents are available 24/7. Starting in 2020, Diesenhaus operates an emergency call center, staffed by its own professional travel agents, available to solve travelers' problems when the offices are closed